Welcome to South West Hampshire RAYNET, using best endeavours to make local communities resilient by providing additional voluntary communications in times of need to the emergency services, principal local authorities and others. In addition to which, we provide communication for local events across the area.
Working closely with Emergency Preparedness, Resilience and Response Officers within Hampshire and Southampton City, to form an integral part of their plans, our team members are mainly licensed radio operators located across SW Hants.
As part of the national organisation RAYNET-UK, our group was established in 1980 and is a very active team of volunteers with a vast array of experience and capabilities.
LATEST NEWS ……..
South West Hants RAYNET, along with other Hampshire groups and local authorities are in the process of setting up a data network between the major council centres in Hampshire.
The first stage is a link from Southampton to the Hampshire County Council emergency centre in Winchester.
Raynet in Hampshire uses District, Borough or Unitary boundaries.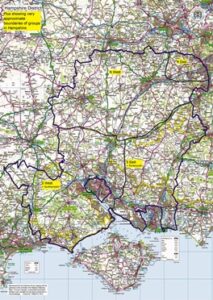 South West Hampshire Covers: Southampton City unitary, Winchester South & City, Test Valley South, Eastleigh and The New Forest.
North West Hampshire covers: Basingstoke & Deane, Winchester North, East Hants North incl Alton & Fourmarks and Test Valley North (All North of A31).
North East Hampshire covers Hart & Rushmoor.
South East Hampshire covers: Winchester South East, East Hants South (All South of A31), Havant, Portsmouth City unitary, Gosport and Fareham.
We also have links with adjacent groups in Dorset,  South Wiltshire 
and Isle of Wight.
If you are an Event Organiser and are interested in RAYNET-UK assisting with your event communications.
Please see our FAQ before contacting us here.
The UK 24-hour number for use in contacting any RAYNET -UK group is
0303 040 1080. 
In an emergency please press *
This is what you will hear
Last Updated on 6th December 2022 by Viv